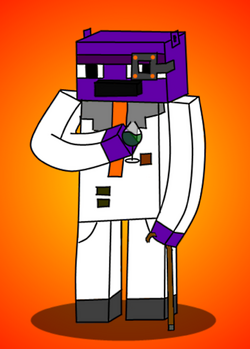 Vaikilli, also known as Vaik, is the Head of Social Media of SpleefLeague. He's also one of the first Mods, who applied for that rank. He is known for his love for everything purple.
Appearence
Edit
Vaikilli looks like a purple bear, but walks on two legs and has clothing on most of the time. His face is dominated by a big black nose and a monobrow. His short purple hair is distributed all over his body.
While not working on SpleefLeague or SpleefLeague's social Media, Vaikilli works as Vaik for the german News-/Blog-Network V-Media. He started in 2012 as a Minecraft news writer on v-gaming.de . Since getgaming.de moved to the network, Vaik writes daily news all about the gaming szene. Since 2013 he also blogs about hardware, gadgets and design on nerdgedanken.de . 
Vaikilli created a rank called "Vaikilli's Minion" which was assigned to Ninja__k and Mc_Kovon and Onyx