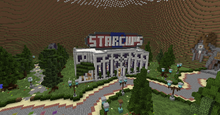 StarCups is a restaurant/ cafe located right outside SpleefLeague's spawn. It is a restaurant where players can relax and take a break from spleefing.
Appearance
Edit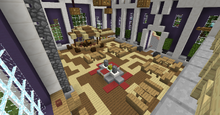 StarCups take the theme of looking like a restaurant/ Cafe. There are tables located everywhere for players to sit and chat and there are also facilities located in the upstairs section. StarCups also has a library with all sorts of books and also an outside patio to feel the nice cool breeze.
Directions
Edit
Starting from spawn (looking at Arena) you are going to take a right. Keep near the right and you will see StarCups on your left.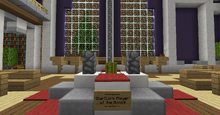 Player of the Month
Edit
StarCups player of the month is dedicated to the player who wins SpleefLeague's Monthly Tournaments. Though no monthly tournaments have began, the winner is currently Melon.
Past Players of the Month
Edit
There are currently no Players of the Month
StarCups takes it's name from the company Starbucks.