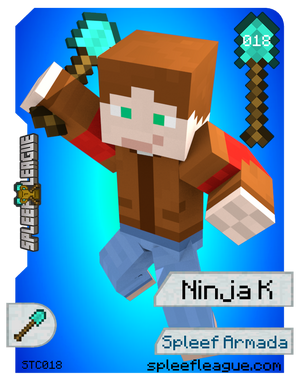 Ninja__k is one of the better known former SWC players of 2012. He started playing around the time the Post on the Minecraft Forum was issued (Sometime in June)He's made numerous contributions to the community with Helper rank, spleef maps, and stories with many other threads.
Ice Over is an ice spleef map with similarities to Snow Cave in Pokemon Gold and Silver. The arena is a cave with a moonlight. It has an icelake in the center and the floor is covered in snow. The arena itself is supported by 5 frozen gyszers shooting into the air. The arena is the 1st official ice spleef map on the server. The arena also has a log cabin, a creeper dungeon, and Ninja__k's sword room make by DarthAlex.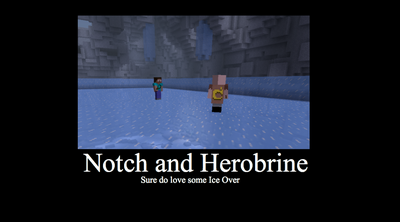 WDKWWAD is Ninja's company. It's an annogram for We Don't Know What We Are Doing. It currently has only 6 current members. Ninja, Biomaniac10, Ciarakoala, Geminisparks, Jack_Limestone, and Thermalaxis. It's been recently changed to Widkwad Studios.
Helper Rank
Edit
After submitting several reports of hacks and spam, Ninja__k was dubbed the first helper by Noah4646. A few months later the rank was taken away after being banned. Eventually helper ranks were scrapped all together.
Panda's Evil Army
Edit
Panda's evil army was a very long short story about a dark magic pick under Panda's possesion, The story started after Noah4646 gave Ninja__k a diamond pickaxe with eff 7. The story was eventually removed by Jecth.
Sprial's Attack
Edit
Sprial's Attack was the confirmed seaqual of Panda's Evil Army, but was never finished due to budget cuts.
Team Bouncer
Edit
Order Of Teams Joined
Team
Team Spleef
Team Armada
Team Tengoku Dorogan
Team Pixel
*Unconfirmed team*
Team Armada
Ninja__k has been banned "permenantly" 5 times.
Ninja was the 2nd person to achieve No-Life forum rank, but it was never displayed because of Helper rank and Viakilli's Minion rank.
Ninja__k has the spleef arenas Pixel and IceOver on his public server.
Ninja__k was once had the "Viakilli's Minion" rank along with Mc_Kovon
Ninja__k has played with ez.
Ninja__k also made a map called Single Player Spleef which can be found on the forums.
Ninja__k owns We  Don't Know What We Are Doing Industries (Now called Widkwad Studios)
Ninja__k quit spleefleague to return with a new username
Ninja__k's nickname is Ninja__kamp because of his extremely campy playstyle