Laboratory (SuperJump) is a SpleefLeague course designed in the way of a lab. It was introduced in the Beta SpleefLeague 2.0 release.
History & Appearance
Edit
Laboratory is a new map that was introduced in SpleefLeague 2.0. Not much is known of Laboratory due to it being very new and a secret to get to. Laboratory appears to what may be an evil lab.
Directions
Edit
Directions are not to be given due to it being a secret.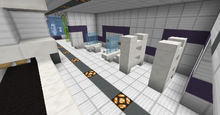 There are currently no records to be submitted.
Laboratory is close by to Eco. Some may consider Eco and Laboratory to be affiliated maps.
There is a puzzle map within Laboratory that requires more than just one person and is also a reference to the game Portal.