Halloween (SuperJump) is a SpleefLeague course in the theme of the holiday Halloween. It is a limited time map which players can acquire during the Halloween season.
History & Appearance
Edit
Halloween was one of the first holiday maps to be added to SpleefLeague. It was, however, the first holiday map to be revamped in SpleefLeague 2.0. It used to take the appearance of a dark wool room with jack o' lantern heads to jump onto. Now it is it's very own island in the looks of a haunted mansion and garden.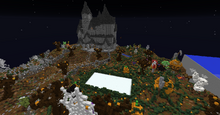 Directions
Edit
As of now, there is no way to get to Halloween. During the Halloween season, players must have found 20 candy apples in order to get access to Halloween.
There are currently no records to be submitted.