Halloween (Spleef) is a SpleefLeague arena in the theme of the holiday Halloween. This arena takes the appearance of a pumpkin patch laying near a haunted castle.
History & Appearance
Edit
Halloween was one of the first holiday maps to be added to SpleefLeague. It was, however, the first holiday map to be revamped in SpleefLeague 2.0. It used to take the appearance of a dark wool room with jack o' lantern heads evenly split around the arena. Now it is it's very own island in the looks of a haunted mansion and garden.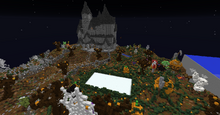 Directions
Edit
Some say its true way lurks within the forest.
Spleef World Cup
Edit
For being a very low lag rate and popular to many spleefers, it never suited the SWC due to spectating. It was commonly used during qualifying rounds but never the tournament rounds. As of now it is unknown whether it is popular during SWC.