Desert (SuperJump) is a SpleefLeague course in the theme of a desert temple. It is a new addition to SpleefLeague and is very challenging to rookies.
History & Appearance
Edit
For Desert to have no SuperJump was very common of SpleefLeague Veterans. As of SpleefLeague 2.0, it was created to have both. Not very popular among players, mostly because it is challenging to get to. Desert gives the style of a desert temple. Located underground, it has 2 hallways that may give riches.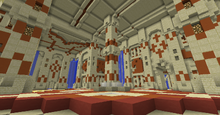 Directions
Edit
Directions at this time cannot be explained
There are currently no records to be submitted.
If you go to the right after entering the temple, you can solve a water puzzle.